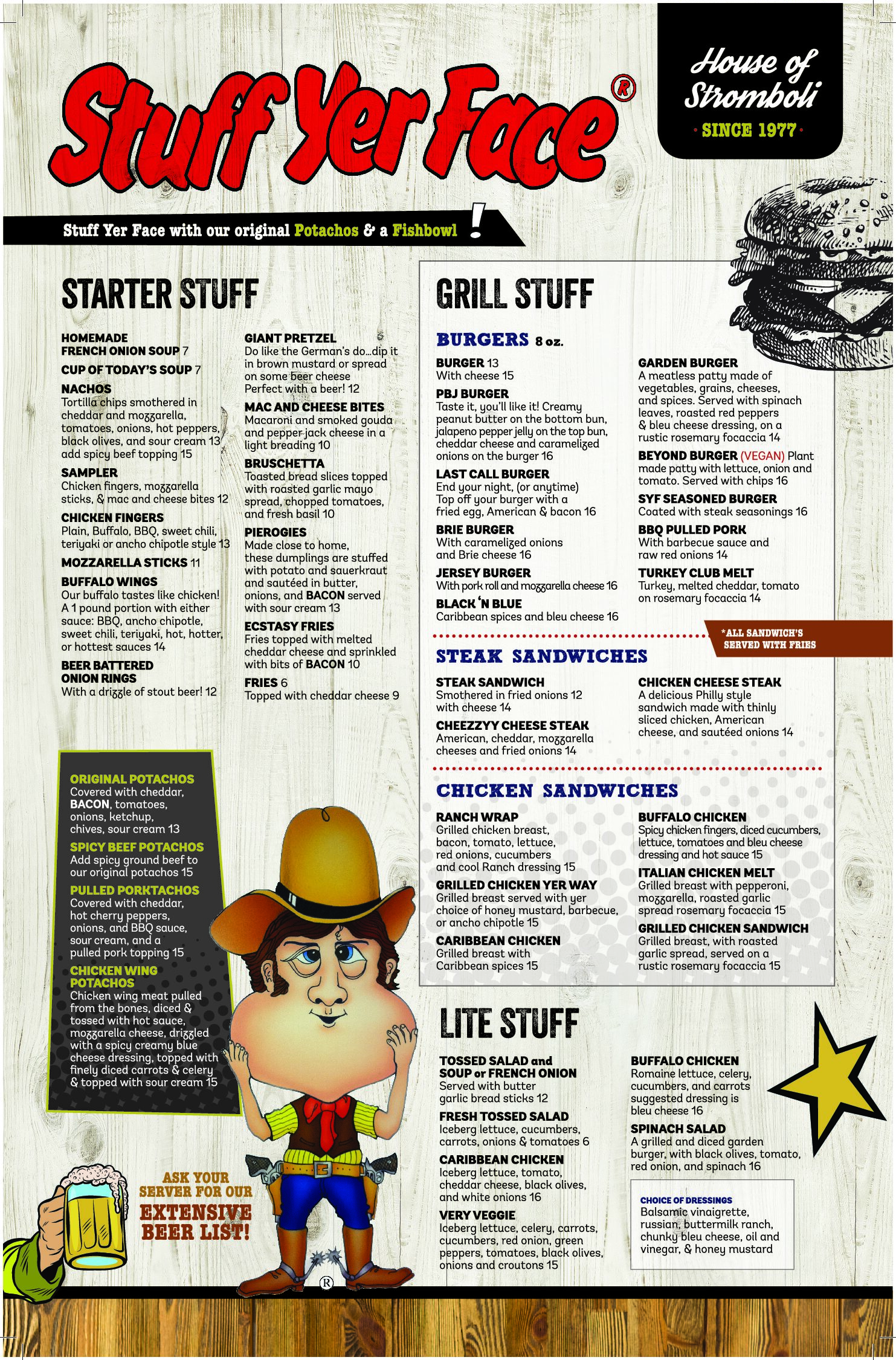 Word On The Street
⭐️⭐️⭐️⭐️⭐️

"They had great food as always and also wonderful service despite pandemics"
Brooke Ogrodnik
⭐️⭐️⭐️⭐️⭐️

"In a word awesome"
Mike Latronica
⭐️⭐️⭐️⭐️⭐️

"Went there for a business meeting lunch order a salad and it was great the service was amazing and it's priced very reasonably"
Cynthia Victor
⭐️⭐️⭐️⭐️⭐️

"Been here twice. Had a lasagna boli with meat and was bombbbbbb. Reasonable prices. Great drinks. Will definitely be back next time I am in the area."
Lucas Litwin
⭐️⭐️⭐️⭐️⭐️

"Good food. Boli's are the way to go. It was crowded but definitely FUN. hostess and wait staff were awesome. Would definitely go back"
Mike Milisivana
⭐️⭐️⭐️⭐️⭐️

"1000th review – nice. Get the potachos – you wont regret it!!"
BlackDeath Vader
⭐️⭐️⭐️⭐️⭐️

"The strombolis here are just the best. We been coming here for over 25 years. Great favorite."
Nelson Ruiz
⭐️⭐️⭐️⭐️⭐️

"Loving the atmosphere and great food. Can't wait to get back here again!"
Tony Barry
⭐️⭐️⭐️⭐️⭐️

"Great fish bowls decent atmosphere off season is better less college students"
Oticia Brisport
⭐️⭐️⭐️⭐️⭐️

"very delicious. the service here is outstanding. this place has a good atmosphere."
Adrianna Graham
⭐️⭐️⭐️⭐️⭐️

"Normally I would have posted a pic but food looked so good I couldn't stop. Prices were average for the menu."
Tasha Rowland
⭐️⭐️⭐️⭐️⭐️

"Best restaurant in New Jersey. The bolis are delicious and appetizers are so tasty."
Louis Szabo
⭐️⭐️⭐️⭐️⭐️

"This place is seriously awesome! I've been stuffing my face since I was a little girl and can honestly say the food has only gotten better. This is not your typical Stromboli! The family has perfected the recipe and I highly recommend this restaurant at least twice a week if not more lol"
Ann S
⭐️⭐️⭐️⭐️⭐️

"Exceptional value for mixed drinks, beer and food. Onion soup is out of this world. Blue flamingo is my favorite fish bowl."
Mike R
⭐️⭐️⭐️⭐️⭐️

"Always good for outside drinking in Brunswick"
Amish Shodhan
⭐️⭐️⭐️⭐️⭐️

"Have not been there in years and the food is still great."
Jim Mills
⭐️⭐️⭐️⭐️

"Great food since I can remember as a young boy"
Dabbo Brister
⭐️⭐️⭐️⭐️⭐️

"This is my all time favorite restaurant and all in one for me. I love this place."
Damper Napier
⭐️⭐️⭐️⭐️⭐️

"Always a favorite for late night food binge with customized boli with veggies. Draft beer choices to go with choices of different bolis."
Chirag Trivedi
⭐️⭐️⭐️⭐️⭐️

"Holy moly Batman I LOVE this place!! When ever we're in New Jersey this is a must go. Hang a fang on a boli and some onion rings and you'll understand when I say that you'll be hooked for life! So many choices, so little time. From vegan options to meatatarian indulgences there's something for everyone. Trust me….the worst thing about this place is finding parking in New Brunswick. But don't give up, your diligence will be rewarded a hundred times over."
Marc Roseman
⭐️⭐️⭐️⭐️⭐️

"Everyone at our table was quite pleased.  Looking forward to a return trip.  The place has a cool feel to it,  My apartment is far from here, so I can't visit often."
Randall Kelly
⭐️⭐️⭐️⭐️⭐️

"Stuff Yer Face is the bomb!!! Went there as an undergrad many moons ago and it's still a fave!!!"
Rachel Rosenzweig
⭐️⭐️⭐️⭐️⭐️

"Extensive menu with good service and good bar food, many combos of strombolis ($8-10 for 4.5 inches and $12-15 for 9 inches) and fishbowls ($18 for 16 ounces to share, tastes like spiked red/white/blue firecracker popsicles). Original potachos ($10 loaded nachos, except with kettle-cooked potato chips and ketchup) are the best. Buffalo wings ($9 per pound) are good too. I like sitting upstairs, above the bar."
Helen L
⭐️⭐️⭐️⭐️⭐️

"you will not be disappointed in the menu and service. staff treated us so nice. this place has great reviews for a reason."
Valeria Mercer
⭐️⭐️⭐️⭐️⭐️

"If you're looking for a Diverse Stromboli selection this is definitely the place to go! Man versus food was here and there is a boli on the menu that he tried! The place is kind of snug so be prepared to get extra close to people you don't know LOL. Really awesome for a get together with friends."
Olsen
⭐️⭐️⭐️⭐️⭐️

"I wanted to post a food pic but it looked so good I couldn't stop. Fast, efficient, and courteous service. This place has an awesome atmosphere. Similar to a place in Denver I liked."
Catherine Ford
⭐️⭐️⭐️⭐️⭐️

"Love this place. Many beers on tap and the bolis are fantastic."
Don Windrem
⭐️⭐️⭐️⭐️⭐️

"the service here is better than most. they have a lot of great reviews for a reason."
Dustin Solomon
"Super tasty. The staff was very welcoming and sociable."
Cristina Graves
⭐️⭐️⭐️⭐️⭐️

"entered near ten, it was not crowded. looking forward to coming back with my friends. it has an awesome feel to it."
Christy Parrish
⭐️⭐️⭐️⭐️⭐️

"I like it here, great food & service. It has a great interior. I can see why they have so many reviews."
Riley Ellison
"Great food and quick service! A local college hangout for the Rutgers kids."
yodogger1
⭐️⭐️⭐️⭐️⭐️

"Don't fret if it's busy, it is worth the wait. Certainly worth a return visit. The prices are good for what you get. They have so many reviews for a reason."
Aaron Mccarthy
⭐️⭐️⭐️⭐️⭐️

"Nice place to meet and catch up with family. This place has a great feel to it."
Jeff Haas
"Normally I would have posted a pic but food looked so good I couldn't stop. I look forward to a return visit. The place has a cool atmosphere. Wish it was closer to my house, I would come every week."
Connor Nielsen
⭐️⭐️⭐️⭐️⭐️

"Stuff Yer Face is the bomb!!! Went there as an undergrad many moons ago and it's still a fave!!!"
Rachel Rosenzweig
⭐️⭐️⭐️⭐️⭐️

"Excellent bolis. Fun atmosphere. Great college vibe. Great prices. Can use a better tap beer selection."
Virginia Brown
⭐️⭐️⭐️⭐️

"It's been over 20 years since we've gone to this chain. The strombolis were good. Will return sooner than 20 years."
Nancy Van Dyke
⭐️⭐️⭐️⭐️⭐️

"If you came here for something other than a boli and didn't like it, that's your own fault. I once saw a review at a rural country breakfast place with a guy whining that the swordfish and oysters he got with his gf on a dinner date weren't fresh and weren't properly cooked. Don't be that guy. Get a boli."
WES
⭐️⭐️⭐️⭐️⭐️

"Can get a little noisy when full, but the foods and drinks are great!"
Beth P
⭐️⭐️⭐️⭐️⭐️

"Great service and excellent food"
Andrés Valarezo
⭐️⭐️⭐️⭐️⭐️

"Service is always awesome even when they have a full house. The staff was helpful and kind. Prices that won't break you."
Caitlin Graves
⭐️⭐️⭐️⭐️⭐️

"Cute little college hang out with pretty good stromboli."
Danielle Vann
⭐️⭐️⭐️⭐️⭐️

"Best strombolis I have ever had, ever."
Glenn Brennan
⭐️⭐️⭐️⭐️⭐️

"Great beer selection. Great food. Been coming here for almost 20 years and I love it. Went to Rutgers and this was the best bang for buck on food. Fireman's and Chipotle Boli are my favs!"
Daniel Castellanos
⭐️⭐️⭐️⭐️⭐️

"I've been here so many times i've lost count and I tend to bring anyone who's never been before here over all other restaurants in New Brunswick. Mainly b/c it's a great atmosphere, good service and even better food. The Boli's are the best! Their Pizza, wings and mozzarella sticks are awesome and I've not heard any complaints about anything else. Nice beer selection as well."
Jan Munford
⭐️⭐️⭐️⭐️⭐️

"You won't be disappointed in the menu and service. Prices are appropriate. My apartment is far from here, so i can't visit often."
Janice Bennett
"Great spot for an appetite of any size. I will be bringing family next time. Bring your hunger – portions are filling. They have a lot of positive reviews for a reason."
Tiffany King
"Great location to meet with friends. The staff was very helpful and welcoming. The place has a great feel to it."
Megan Lane
"My order was on point and I like the atmosphere"
Walden Jonas
⭐️⭐️⭐️⭐️⭐️

"The definitive stromboli eatery does not disappoint. Wide selection of boli's are all fantastic. Great selection of appetizers and salads. Nice bar with a good selection of drafts. Young college crowd due to proximity to Rutgers. This place gets busy especially on the weekends. Parking is rough. Meter parking right outside."
Ron M
"First time experiencing eating a Stromboli. I made my own (my 5 ingredients) or you can order the pre selected ones.  All looked great and mine tasted great.  Of course I had a local beer to wash it down."
David G. Servetter
⭐️⭐️⭐️⭐️⭐️

"Excellent as always."
Mary and R. Ghilino
"A great place to meet friends or have a great family dinner. Food and service is always great."
Lenny Calderaro
"Stuff Yer Face is one of the best places to get a cold beer and a stromboli in the city. This eatery and bar, which was featured on "Man v. Food," is one of the most iconic places for Rutgers students to head to on the weekends.  With a giant bar inside and places to drink throughout the restaurant, this is the perfect place to come with friends to have a casual evening out."
Michael Politz
My Central Jersey
"This restaurant defined a lot of my college experience.  On a nice day I would love to sit outside and have a tasty stromboli."
Roger Grillo
Director of Administration and Finance, Rutgers Food Science Department
Our Mascot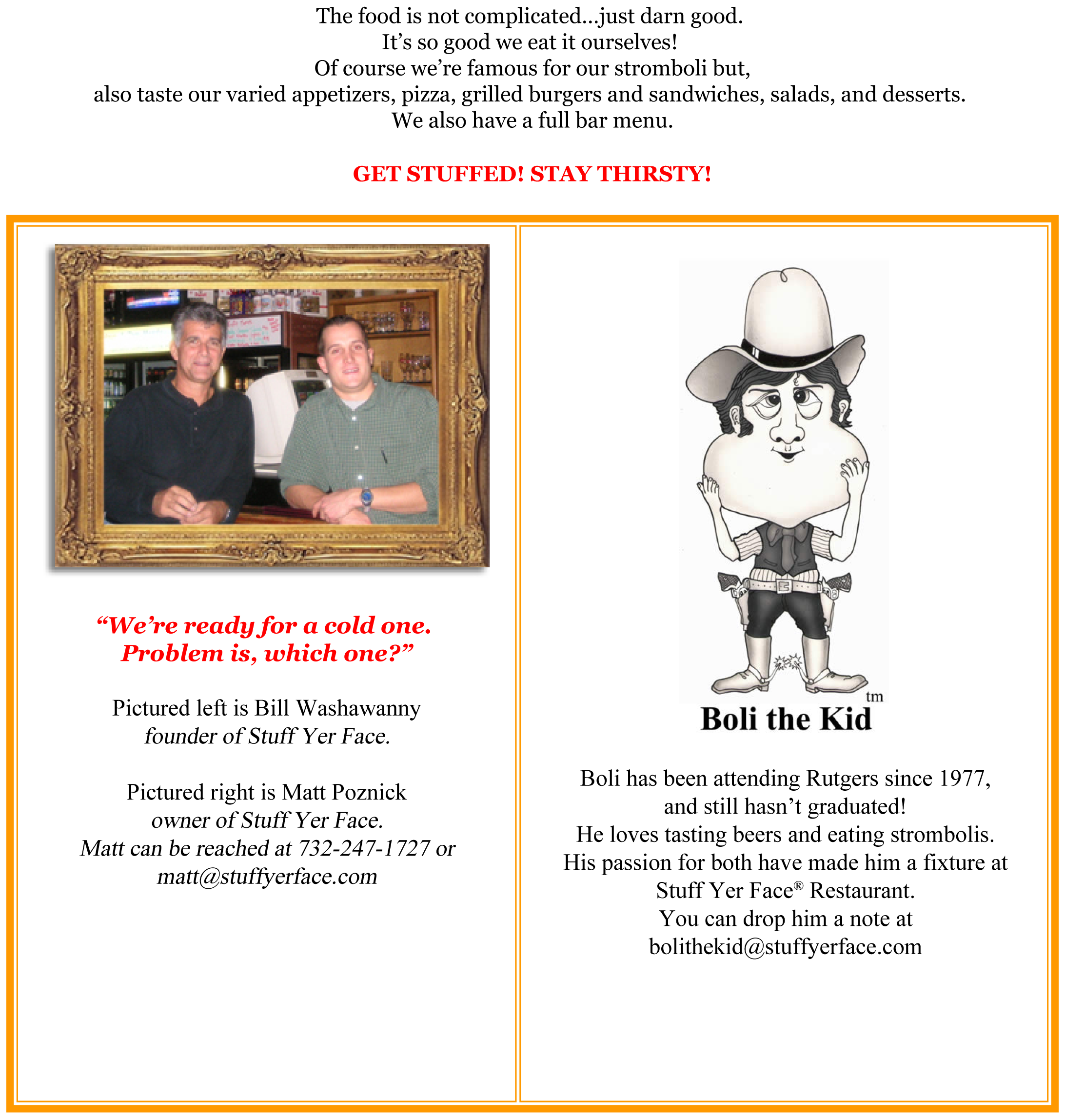 *
Welcome Back Rutgers Students!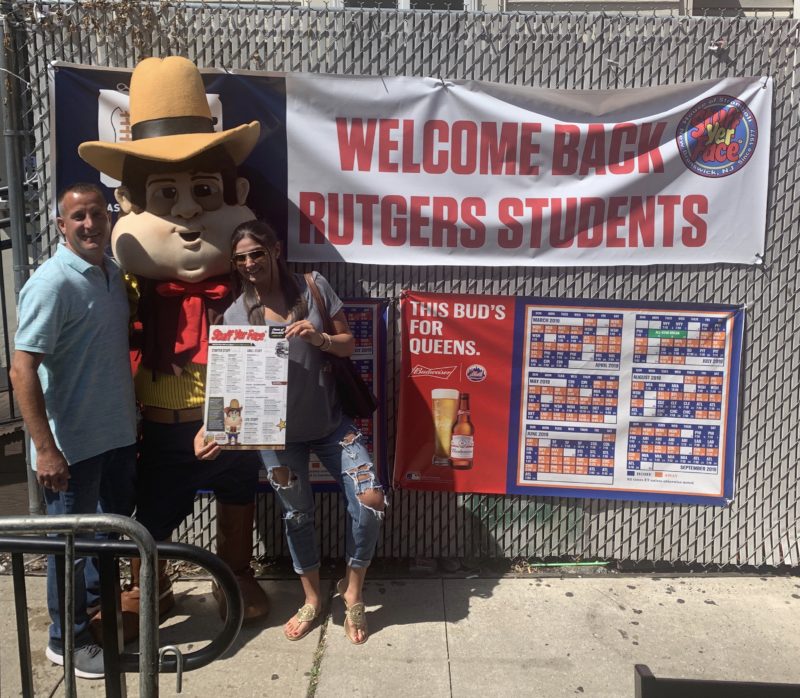 and counting!
Stuff Yer Face Restaurant is located in New Brunswick, New Jersey. It is famous for its selection of stromboli sandwiches and beers from around the world. The restaurant first opened in 1977 on the Rutgers University campus. Our menu includes a wide variety of appetizers, burgers, grilled sandwiches, pizza and salads. We have a full service bar and a great beer list. The staff strives for quick, friendly and attentive service, serving delicious, inexpensive food. Whatever you decide to eat or drink… you'll leave feeling good inside!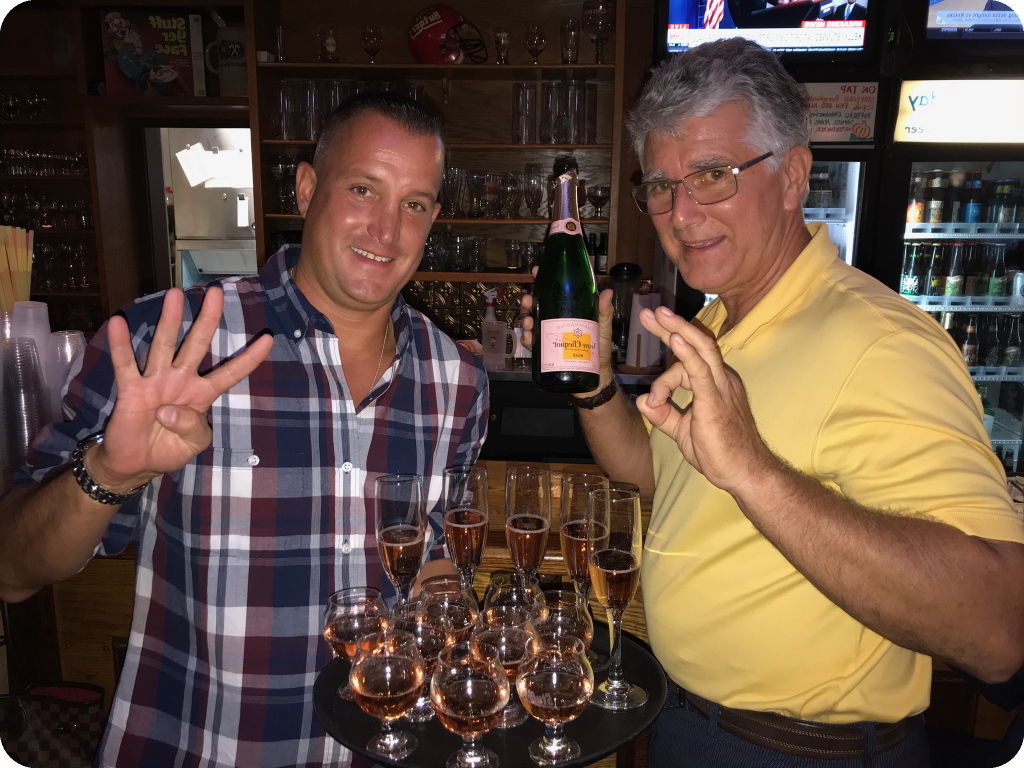 Our History
The Original Stuff Yer Face Circa 1977 at 43 Easton Avenue home to the Stromboli from 1977-1982.
Thanks to all our great staff and patient and supportive customers… We made it!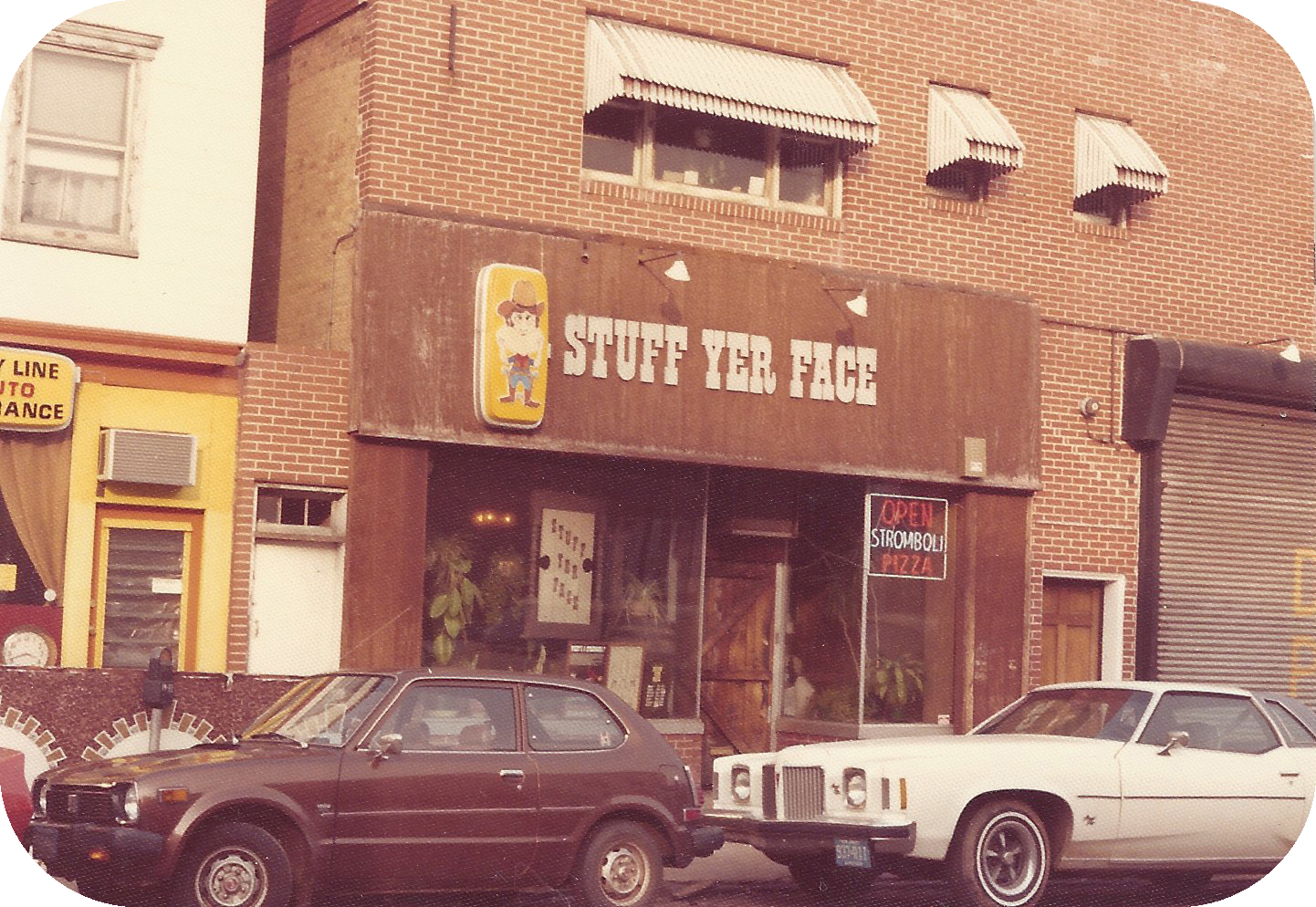 Latest news
Now Hiring: Bartenders Posted: 4/15/2021 Come by to fill out an application…