2015
UPDATE 1 from Bischofsheim, Germany
Time to hike about 10K up 3000 feet toKreuzberg, the Holy Mountain of the 3 Crosses. It surprises us with a grueling 3 hours. The trails are clearly marked, but like the Scarecrow of the Wizard of Oz, which way do you go? The views are spectacular along the route and we finally find the entrance to the mountain top Monastery of Kreuzberg. We enjoy the beer they have been brewing since 1791 and the awesome food. We then climb another 400 or so stairs and witness the 3 Crosses.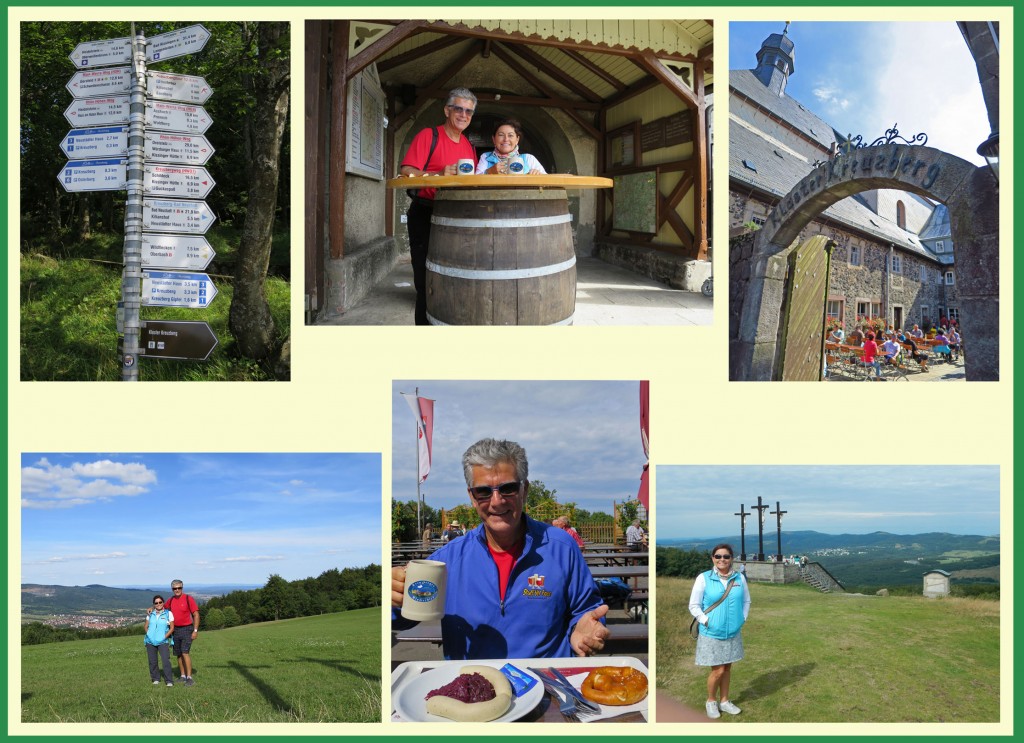 UPDATE 2 from Kulmbach, Germany
Today we drove to Kulmbach to visit the Monschof Brewery and Museum. We can't tour the Museum without a beer, so we stopped in the Brauerei Gaststatte for lunch. The beer was flowing from a beautiful antique tower. We walk through the biergarten which will have to wait till later. Inside the Museum we made some new friends that made us feel at home. At the end of the tour we were surprised with a test! But being professionals we both got perfect scores.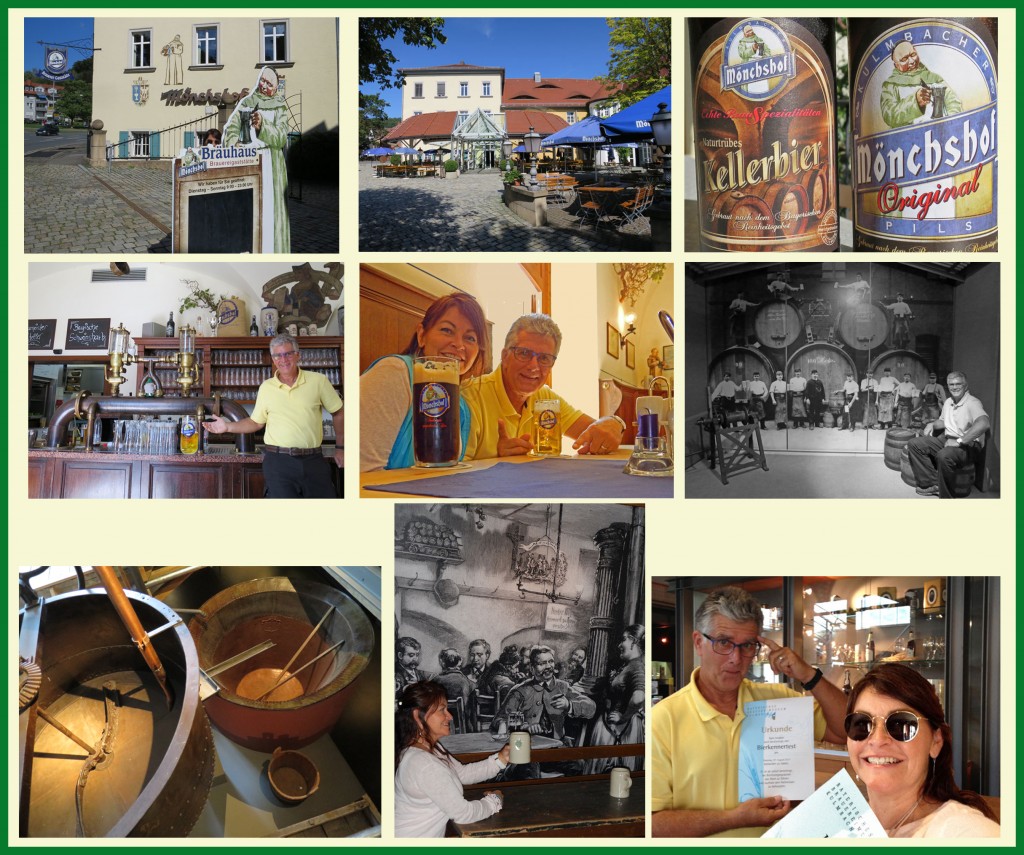 UPDATE 3 from Grafenberg, Germany
Our "Funf Seidla Steig" or 5 beers at 5 brewery climb, was a hot sunny day. Our 20K hike was guided by Nina's phone and trail markings. At 5K we stopped Brauerei Friedmann for our first beer and were excited to pick up our Funf Seidla passports. At Klosterbrauerei Weissenohe we picked up our custom krugs and ate some lunch. Either we drink too much or walk too slow, but we needed to save some time so we hired a taxi for our third stop, Lindenbrau. It was closed. Back in the cab to Brauerie Hoffman where we coerce the driver, Heidi, for an ice cream while we enjoy our fourth beer. Our last ride is to Elch Brauerei and we say good bye to Heidi.
We've met some fantastic people along this Hiking for Beer route, and tasted some delicious beers. This final stop became the icing on top! We sat inside, and then realized the Owner was sitting next to us. After a few formalities, Hans was happily regaling us with his travel stories. An avid worldwide hunter, he told us about Bruno The Moose, his friend on the wall, and then we enjoyed the special Bruno Beer with truffles. When we were ready to leave they gave us a wooden gift box packed with a 750ml Bruno, special glass, and truffles! Hans and his staff were incredibly friendly , , , reminded us of a place near and dear to our hearts — Stuff Yer Face!
UPDATE 4 from Aufsees, Germany
As we enter Aufsess, we are greeted by a sign indicating their Guinness World Record for a city with the most breweries per population; four breweries for 1400 inhabitants. Today there are 1402! Our goal is to hike the 14K, have a beer at each, and earn our Aufsees Bier Passport. Learning from experience, we drive around the connecting loop. Smart move; we find two breweries are closed. One of the open breweries is at our hotel, so after checking in, we have lunch. We have some brats, some beers, and swat about a 100 flies. The next day we hike about 4K to Kathi-Brau, a very charming, rustic, woodsy setting. We have some more brats, a couple of dunkel beers, and swat 100 flies. Now we know why the other two breweries are closed…to avoid the swarming flies. Sadly we did not earn our Hikers Bier Passport. However, we did enjoy dining our final night with two other couples from Switzerland and Germany. We laughed, told stories, bought rounds of beer schnapps, beer liquor and fruit schnapps, and swat 1000's of flies in two different languages!
UPDATE 5 from Passau, Germany
Today we begin our bike journey from Passau, Germany to Vienna, Austria. It's chilly, mostly cloudy with a good chance of rain. We begin at the Rathaus and wiggle our way out of town and across the bridge of the Inn River. We quickly leave Passau behind and cross the Austrian border. The highlight today is a visit to the only Trappist Brewery in Austria, Seft Englesgell. Its an extra 5K on the ride, but we have to go! We find a beautiful church, a shop, but no beer being poured. Nearby is a small cafe for lunch , , , lucky for us, Bill was in Heaven enjoying a pizza!
UPDATE 6 from Ardagger Stift, Austria
During the last two days we have biked 110K along the Danube. The scenery is beautiful and the weather has been chilly and drizzly. Lunch at a café along the river always brightens the day. We ended our third day in the city of Linz. An ice cream was a well deserved reward. And the sun was out! Towards the end of our very long ride, the rain really came down hard. As we rounded a curve we came across our first Austrian wild hops growing along side the trail! We wonder how they will compare to our Polish hops next week. Then off in the distance we saw our final destination, up on the hilltop? Oh no! We're wet, tired, hungry, and thirsty for a beer. Ride on!
UPDATE 7 from Melk, Durnstein, and Vienna, Austria
Our final three days of the bike ride, Mother Nature threw it all at us…rain, sun, wind, hills and chills. The scenery was highlighted by castles along the river. We arrived in Melk with a super view from our room of the Abbey, the oldest and largest in Austria. We entered the Wachau area, the wine region of Austria filled with vineyards and cute little villages. There were roadside wine tastings and shops selling the local favorite, apricot schnaps. Soon the vineyards disappeared behind us and the Danube rolled into Vienna. The scenery changed and we were reminded the big city was next. We rode more than 250K on our trip. It was a challenge that we are proud to have completed. There is no time to relax though, its an early train in the morning for us heading to Krakow, Poland!