Our Travels for Beer take us to Idaho to visit our friends Heather and Andre and hopefully visit a hop farm during harvest. Heather and Andre have told us about their visits to the hop fields last year and Nina and I put it on our travel calendar. Nina did some research before leaving home and made a contact via phone for a tour. Our guide was Debbie Gebert of Alpha Hop Sales located in Parma, Idaho. Alpha Hops is "The first place for quality hops" and she has been selling hops for over thirty years in the area. Debbie knows the farmers, the workers, the fields, and the hops.


We met her one early morning near the fields and jumped into her truck. Her notoriety was quickly evidenced by the many friendly waves she and her truck got from the workers. It is early September and the hop bines were ready for harvest. Planted in spring, the hops grow very quickly up a guide wire reaching towards the sky in a clockwise direction around the wire. A plant that grows this way is called a bine and not actually a vine. The vertically rising wires are each attached to a higher wire running perpendicular over each row of bines. Each of these wires are held in place at the end of each row by a large wooden pole set deep in the ground at an angle and additionally fastened to the ground with steel cables. Debbie parked the truck at a higher location for us to get an overview of the fields. It was a pretty sight, rows and rows of bines reaching to the sky with hop cones dangling in the breeze.
Up and down the roads we drove with Debbie while she named each hop being grown and if they were ready or not for harvest. She would look for the perfect bine with robust cones ready for picking and give us time to take plenty of photos. She could tell the name of the hop cone by looking at its shape. Cascade, Citra, Zeus, or Bravo, she recognized them all.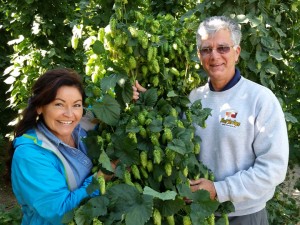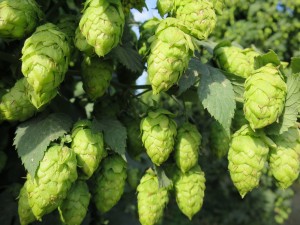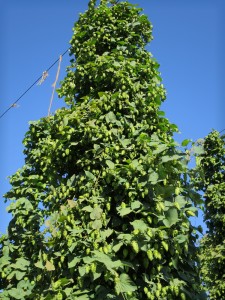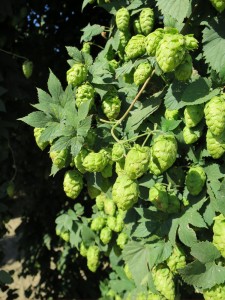 Debbie took out her handy pocket knife and cut open a plump hop cone to show us the inside. Inside we could see the Lupalin gland, which contains the resins and oils important in making beer. Looking at the yellow Lupalin and rubbing it we could feel the stickiness and smell its aroma. It was quite a first impression for us the inexperienced, and it was easy to catch Debbie's enthusiasm. A pick-up truck overflowing with freshly cut hop bines drove by us on a dirt trail between the fields and the driver waved hello. Next, Debbie took us to the processing facility.


We drove over to a medium sized building with a lot of action on the outside and inside. As we approached we could see several pick-ups filled with hops in their truck beds and workers lifting them onto a hook attached to a moving chain. The hop cones were being plucked off the bine here. The bines are hung upside down on hooks and mechanically transported into the picking machine, where hops and leaves are stripped, & separated from the vine and sent through a series of cleaning devices to remove other debris. The stripped vines and other debris are chopped and spread back onto fields to improve the soil.
Cleaned cones are quickly transported by conveyor belt to the hop kilns in another area of the building. Kiln floors are each approximately 32' x 32', and hold some 15,000 pounds of hop cones. Cones are spread to a depth of about 32 inches. Once the kiln is filled, drying occurs when oil or gas burners are fired and hot air (140 degrees Fahrenheit) is forced indirectly through the bed of green hops. The hops are monitored closely for moisture content and temperature. Drying requires about 9 hours, reducing the hops to 30% of the green weight, with 8-9% moisture content. Hops are removed from the kiln floor and cooled for 24 hours. After cooling the hops are compressed into 200 pound bales, wrapped in burlap and subjected to quality inspection. At this point they leave the individual farm operation and are transported to cold storage warehouses such as Debbie's Alpha Hop Sales. The hops are checked for moisture and temperature with a probe when they leave the farmer and again at delivery time for storage. The hops are treated as a food product and quality matters.




Towards the end of our incredible tour Debbie stopped for a cool beverage visiting the locals in a traditional country store. We were introduced to the owner of the store and she noticed Nina's Hops Jewelry almost instantly. She loved the representation of the hop and thought Lupi™ adorable! We later found out that she insisted for one of the primary hop farm owners to contact Nina and buy hops jewelry while she was still in town!
We finished our day with lunch at a reputable Mexican Restaurant. We talked about our day, the aromatic hops, the hops industry and our shared passion for this historic flower and its impact on Stuff Yer Face, Hops Jewelry, and Alpha Hops Sales! We departed completely fulfilled and yet wanting more. Thank you Debbie and Idaho Hop Farmers.