It is Bill and Nina's pursuit to visit all the breweries listed on the Stuff Yer Face beer menu. Our Travels for Beer this September take us to Colorado where there are more than 150 breweries and home to the Brewers Association. Since the microbrewery business began here early in the 1980's, and judging by the names on our list, we anticipate some great places and delicious beer.
Golden, Colorado is home to the original Coors Brewing founded in 1873 by Adolf Coors. There was a merger in 2005 with Miller Brewing, founded in Milwaukee by Frederick Miller in 1855. The brewing facility is the largest single site facility in the world and the only one in the USA with its own malting facility.  It is true that Coors Banquet, or the Original, is brewed with Rocky Mountain Spring water, it is not pasteurized and is only brewed in Golden. Along with the merger came the ability to brew the Miller flavors in Golden. Nina and I were joined on our VIP tour by my college roommate Bill from 42 years ago and his wife Barb. It was an excellent tour filled with facts and stops along the brewing cycle.  Most impressive were the mash tun room with many copper kettles and the aforementioned malting room. At the end of the tour we were able to sample some beers.  For me, I wanted to taste Coors Banquet from the source tap and it was bright and fresh, and a beer I had not heard of before the tour, Colorado Native.  It is brewed using only ingredients from Colorado and they add a little more hops to it and it's a good session ale. Nina was excited to taste the Herman Joseph Private Reserve lager, made with Noble hops and two row barley. It is poured in a two step process with a two inch head. She enjoyed it and took home a six pack and glassware.  Combined, Miller and Coors have plenty of selections on the beer shelf with Coors Light jumping to the #2 selling beer in America.
The original Breckenridge Brewery opened in 1990 by Richard Squire a self-described "ski bum". We visited the location in downtown Denver, opened in 1992, which includes a kitchen.  It has a comfortable bar with a dozen beers on tap, and many tables nearby.  The beers on tap included some small batch specials not available elsewhere.  The favorite of the day was "Over the Moon" a rare small batch brew described as their double IPA blended with the oatmeal stout. At 10% this was beautiful and delicious. Another great small batch brew was their oatmeal stout with tart cherries from Michigan that soaked for 12 weeks. Breckenridge is so popular it is expanding to the Highlands in Spring 2015. Both bartenders and fellow patrons were friendly. Beer, Travels, and Hops Jewelry kept our conversations interesting and on-going. Unfortunately, our afternoon was disappearing and we needed to continue our pursuit. This was a great stop.
Also located downtown in Denver's Ballpark Neighborhood near the stadium is Great Divide Brewing.  Founded in 1994 by Brian Dunn they continue to win many accolades. There is a patio out front, fresh hop vines and creative bike racks.  Inside is a small tasting room serving big beers such as Yeti Imperial Stout, Yeti Oatmeal stout and Hercules Double IPA.  The Colette Saison is a nice refreshing break.  Three tasters for $3 you can't go wrong! Behind the bar is another room with tables and stools alongside the stainless fermenting tanks.  Upon leaving, we walked around to the side of the building and found the garage door open leading into the brewery. A forklift and containers filled with fresh hops beckoned our attention. The herbaceous aroma and bright green hop cones infiltrated the evening air. A brewer was working and cleaning. It's harvest season and fresh hop brewing day at Great Divide! How lucky are we?!?
Boulder Beer was Colorado's first microbrewery and 43rd in the country, started by two university professors in 1979. In 1984 they moved to their current location just minutes from downtown. There is a pub inside with a full food menu and we enjoyed a few beers, scrumptious food and excellent service before heading into the tour of the brewery. Our tour was given by the enthusiastic & entertaining Dan Weitz, Marketing Director . We learned very quickly that they are proud of their heritage.  Being first was a struggle and most of the brewing system was pieced together with used parts. Yet still in operation today, such as a hole in the floor with a pipe leading through it so the brewers working on one floor could talk to others on another floor.  This naïve but enthusiastic way of starting a business reminded me of Stuff Yer Face. We too pieced together a restaurant with used equipment and due to our success relocated to a larger home five years later.  Boulder Brewing uses a small pilot brewing system for their barrel-aged program to create and test unique blends and combinations for sampling at the pub. During our tour no brewing was being done because the crew was busy cleaning fresh Colorado hops just harvested for their brew called "Fryed".  It was fresh hop day at Boulder and Nina could not resist getting her hands on those hops. She asked to help and, with one chair open they welcomed her to the team. Leaves,  hop cones, earwigs….just keep the cones!
Avery Brewing is also located in Boulder, founded in 1993 in an industrial park. They take pride in blending Old World traditions and expertise with ingenuity, creativity and boldness. They have six-year round brews and more than a dozen others during the year.  Outside is a patio area with limited food service delivered from across the street, and inside are four large rooms for beer tasting.  The bar is moderate size with plenty of taps.  The other rooms have plenty of seats and one room is filled with wooden barrels for aging beer blends. A unique service feature we noticed here is what we called "water boys". You could always get a fresh glass of water served to you. The beers on the year round list are bold and big in flavor such as Ellie's Brown.  We arrived timely for the release of The Beast, a Grand Cru in 12 oz bottles. It's big, 15%, dark, molasses-like with tastes of dried fruits. It was also Octoberfest time and the release of The Kaiser, an Imperial Oktoberfest. They kicked it up with more malt and intensified it with Noble hops. With their success,  Avery too is moving to a larger facility, which seems to be a trend here in Colorado brewing land. Some of the staff noticed Nina's Hoppy Turtle, Lupi™, and her hops jewelry. We enjoyed a few more beers while she showed-and-sold.
 Oskar Blues Grill & Restaurant opened in 1997 by Dick Dale Katechis, in Lyons, CO. Following the fast road on expansion, they now have additional restaurants and breweries in the area and in North Carolina.  We made a call to the "Anti-Corporate Headquarters" and were able to schedule a tour of the brewery owned farm, "Hops & Heifers".  Our enthusiastic, knowledgable, and personable guide Danielle drove us out to the rural & scenic site, just outside of Longmont. Opened in 2010, the farm grows hops for brewing, and raises cattle, goats, chickens, and a pig. All are fed the spent grains from the brewing cycle.  Later the beef, pork, eggs, and cheese are used in their restaurants. We found their hop fields beginning to flourish in this beautiful setting.  Soon it will be harvest and a special brew will be made.  After the tour we returned to their tasting room, the Tasty Weasel, for a couple of beers. A welcoming environment to spend the afternoon, they have outdoor tables, complimentary peanuts, swag, and an abundance of wall stickers. There were plenty on tap including Mama's Little Yella Pils and G'Knight a red Double IPA. We could tell this was a very employee friendly company when we saw Ski Ball games in the bottling room, a free barbecue lunch being cooked on Friday, and a friendly dog. If you plan a visit also include dinner or lunch at their restaurant called Home Made Liquids and Solids, in Longmont.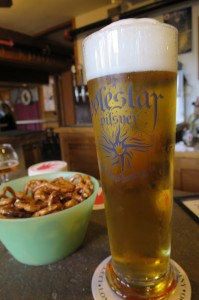 Left Hand Brewing opened in 1993 in Longmont. Why is it named Left Hand? In honor of Chief Niwot, whose tribe wintered in the area, and Niwot is an Arapahoe word meaning left hand. The brewery now spans over 5 acres and has won 21 medals at the Great American Beer Festival. They were also the first to bottle a Nitrogen beer without a widget with their Milk Stout Nitro. Outside are two separate patio areas to taste beers. Inside is a tasting room with with a moderate sized bar and a second room with tables and lots of great beer art on the walls. Complementary pretzels are served and there is plenty of swag to purchase.  My favorite beer of the day was Polestar Pilsner which reminded me of the Czech Republic or Germany, served with a firm white head standing tall above the rim. They also had an Oktoberfest on tap which was brewed to style. It is rare for a brewery to brew lagers and wait for them to lager and ferment in the tank for several weeks. They have patience and it is worth it! I noticed a nifty gizmo outside by the parking lot, a bicycle tire fill station near the bike rack. Nice and handy and bicycle friendly.
The original Odell Brewing in Fort Collins opened in 1989 by Wynne and Corkie Odell.  The current brewery site is a beautiful building of post and beam wood and natural stone construction. They have original hop designed iron gates and bike racks. Outside there is a large parking area, large patios, grassy picnic areas, fire pit, food truck, and music playing. Inside is a large merchandise area, a large bar area,  a 2nd tasting room, offices, and brewery tours. The beers rotate quickly and the menu is clearly shown with beers poured in three sizes. The Double Pilsner I tasted was delicious and I deserved a second.  Odell offers three different flights of beer in groups of six, including a Pilot group of new brews being tested. Nina enjoyed her flight of classic tasters, each clearly marked. All proceeds from the taster trays go to charitable organizations. Additionally all tips go to charity and after working 5 years an employee earns a trip to England! Nina likes all this! A food truck was parked on the grounds for people like me who have to have a Brat with their pilsner.






The original Fort Collins Brewery opened in 2003, and later expanded to its present location of 30,000 sq.ft.  just down the street from Odell Brewing. Opening as a German lager house, they soon proceeded to experiment with other yeasts and recipes from around the world. Gravity 1020 is a large & beautiful restaurant within the walls of the brewery. The food on the menu is meant to go with beer and use beer in the cooking.  We stayed for dinner on our visit and were happy we did. We started with a flatbread made with the spent grains of the mash tun and it was delicious.  Later I enjoyed a bison burger with maple pork cracklins, Red Banshee caramelized onions, Stilton blue cheese and smokey Chocolate Stout aioli on a toasted pretzel bun. WOW!
It was a Saturday when we visited Fort Collins. There is a third major brewery in town named New Belgium, famous for their Fat Tire Ale. Coincidently New Belgium was closed that day for their Tour de Fat, a day where beer lovers and bicycle lovers dress up, ride, parade, and drink beer. As we sat on the properties of Odell and Fort Collins breweries we watched as dozens of riders cruised by in costumes. Some pulled in for refreshment. Sunday we were able to visit New Belgium when it reopened.
Is Fort Collins a place to live or what? Three great breweries within a golf swing distance. New Belgium Brewing is in a beautiful building with a good sized tasting room and an outside area for overflow. The theme within the building is bicycles. I was able to taste a new style for me, a Gratzer, which I was told was a Polish Smoked Wheat beer.  It was delicious. I immediately went to the food truck and had a bratwurst sandwich.  Also I tasted a Yusu Berliner Weisse. Now, a Berliner is usually slightly sour beer with fruit flavoring, so what is Yusu? The knowledgeable server explained it is an ancient fruit somewhat like a lemon. The beer was perfect. Nina enjoyed a Wild2 dubbel with duck lollipops from the food truck. That's duck drumsticks coated with a sweet glaze.  The Wild2 is a mahogany colored Autumn ale spiced with Schisandra, a berry that has all five flavors; salty, sweet, sour, spicy, and bitter! Nina had a double dubbel…no need to change…it was exponentially tasty! New Belgium even has a program where you address a coaster, drop a friend a note, and they pay the postage! Cool.
Prost Brewing is located in the Highlands area of Denver. They specialize in German style brewing and have German theme in the pub. The head brewer, Larry Leinhart, brings decades of brewing experience to Prost. We met with Larry at his hop field nearby to see this year's crop, talk about brewing and his own crafty invention the Happy Hop Plucker. The German style pilsner I tasted at the pub was crisp and clean and I could taste the quality. The wheat beer was delicious with the hint of clove and banana. They even used the proper shape glassware, which we had not experienced much in Colorado. The pub served an authentic German pretzel from a local baker.
We noticed a common thread during our Travels for Beer in Colorado.  Tasters are always available and usually in a flight, the breweries give free tours many times during a week, the use of food trucks versus a kitchen, a vast selection of beers to choose from, easy to read and informative chalkboard menus, eco-friendly operations, bicycle friendly, charitable to the locale, and each is expanding and busy.