Nina and I are based in the Northwest corner of Belgium in a little place named Bruges. It's a picturesque village located along many canals and crossed by stone bridges. It's a beer city in its own right, but from here we will make a day trip to brewery Duvel Moortgat and then later rent a car for five days to visit nine other Belgian breweries.  It's our goal to visit all the breweries of the beers on the Stuff Yer Face menu!
Duvel Moortgat in Breendonk
Our day trip to Duvel Moortgat in Breendonk requires us to take two trains, a bus, and then a quick hike to the brewery.  We quickly recognize our destination when we arrive at the Brouwershuis, the original home of the brewer from 1871.  Just a couple yards further down the street is the newer main entrance. We walk into a tasting room and swag shop.  We learn that tours are by appointment only, and there will be no tastings without the tour. We expected that. Nina introduces herself to Brigitte who is in charge of the tour, and explains to her that we sell Duvel at Stuff Yer Face. We are offered to follow a Flemish tour. That was fine with us, the brewing process is the same in any language and the beer is always good afterwards.
After the tour we were given a couple of cups of cheese and a two tastings.  I renewed my respect for the taste of Duvel, it is a great beer. Clean, crisp, slightly complex and quenching.  The 90 day brew process and refermentation in the bottle really pays off.  Moortgat, still owned and operated by the family, now also brews Maredsous, A'chouffe, Liefmans, and Ommegang beers, and recently bought Boulevard Brewing in Kansas. We tasted the Liefmans Goudenband and it was delicious…look for it at Stuff Yer Face soon. This dark red beer tastes of apple and cherries, combined with woody notes, while the aftertaste hints at nuts and dried raisins.
We mention to Brigitte a rumor that we heard about a special label on Duvel bottles. It seems that in rare instances the coat of arms on the label is changed slightly with images of a cherub and a devil. Surprised that we know, she reaches on a shelf behind her and grabs the bottle with the label….one in 250,000 labels are switched! How lucky we were to get that bottle, and to get on the tour.
Brouwerij Verhaeghe in Vichte
We start our driving tour in a rental car on a cold rainy Monday.  We have a route planned but no scheduled appointments or tours except for one at Lindemans.  My goal is simply to visit the breweries, say hello, take a picture, taste a beer and head to the next brewery.  Our first stop is Brouwerij Verhaeghe in Vichte, which brews the Duchesse de Bourgogne, a Flemish Red ale.  We drove up to the site and were confused if we had found the brewery. We parked the car and made a phone call to their office. Karl Verhaeghe answers and assures us that we are correct and informs us it's okay to walk the yard and take a couple of photos.  Through the windows we see the wooden barrels where the Duchesse must ferment for 18 months.  In another window we see an old mash tun that looks like it is still in use. We are excited to see this old brewery.
We eventually came across an office door, walked in and announced ourselves with our story of Stuff Yer Face.  Karl quickly welcomed us and Samuel, an employee, is found to give us a tour.  It is an historic brewery with a new section recently added.  During our tour we soon came across Peter Verhaeghe, Brewer and brother of Karl.  Peter was a jolly guy and offered his time to continue the tour along with a beer tasting.  Wow, how cool, we're drinking The Duchesse with the Brewer. He keeps us laughing all the time! He spoke little English and we understood little Flemish, but the hand gestures and smiles made us laugh.  Peter explains he has a crew of ten to get the brewing done and his patience wears thin waiting 18 months for the Duchesse in the wooden tanks.
Verhaeghe brews other beers under the Barbe label.  It refers to the Liege brewery "Barbe d'Or" which was a medieval brewery in the old town of Liege (Belgium) and belonged to the family "de Romsée", an ancient Liege family whose coat of arms adorns the logo of the "Barbe" beers.  Peter told us it was his mother's family. The beers are available in Blonde, Rouge, Ruby and Noir styles.  The Noir, or stout, was very tasty and we'll try to get this at Stuff Yer Face.  Peter jokingly said his favorite was the Blonde Barbie…okay we get it, another laugh.
 Brasserie Dupont in Tourpes
Our second stop for the day was Brasserie Dupont in Tourpes, famous for their Saison Dupont, the saison beer that sets a standard for the style around the world.  The brewery was only a 20 miles drive, but sometimes they are not so easy to find.  While searching for road signs we laughed when we noticed the sign buried in the bushes.  We're lucky to find Dupont. Again Nina and I walk into the office without an appointment and say hello.  A woman is surprised by our presence and she speaks only French. I hand her my business card and explain we sell the beers of the Brasserie at Stuff Yer Face. She smiles and reaches for the phone and an employee was volunteered to give us a tour.
Marco was the lucky guy to give us the tour.  He only spoke French, but was excited he was chosen.  He gave us the quickest, most interesting tour of a brewery we had ever gone on.  At every turn he loaded us up with free swag.  We didn't have the heart, or the French, to tell him that we are traveling light and we have no way of getting home a banner that measures 36" wide by a football field long. Other brewery workers also wanted to say hello to us.  Who do they think we are? They sure were friendly.  Somehow, with a personality like Marco's the important information of the tour is understood despite the language difference.
Moinette is the showcase beer of the Brasserie.  It is a coppery blonde ale, 8.5%, with aromas of hops and a balance between sweet, bitter, and fruity. Brasserie Dupont did not have a tasting room, but a café was located just fifty meters across the street. It's time for a classic Saison after another enjoyable stop.
 St. Feuillien in Le Roeulx
The next morning we are off to St. Feuillien in Le Roeulx.  At Stuff Yer Face we serve the Saison and the Tripel. It's raining again as we pull up to an old brick building with plenty of signage to indicate we are in the right place.  Without leaving the car we can see several large format bottles in the window, like the 3, 6, and 9Liter sizes.  There was not much sign of life here so we drove back to an office building we spotted on the way in.
Another office, and again no appointment, and this time we arrive with wet umbrellas and wet jackets.  We are greeted by a woman who is surprised we do not have an appointment. We exchange business cards and I explained to her that we sell the beers of St. Feuillien at Stuff Yer Face.  We had a brief discussion and she got on the phone to schedule us a quick tour with Francois.  I thanked her and apologized for the drop in.  We got in the car and drove back to the brewery.  While driving I looked at the name on her card and it reads Dominique Friart. Her family founded St. Feuillien in 1873. Thank you.
At the old brewery's courtyard we find Francois and we soon learn he is the Brewer. Wow, jackpot again. We noticed hops growing up the walls of the courtyard. Francois explains that the old side of the brewery has just been closed and now the newer equipment is used.  We were able to tour the older side and see the original mash tun that was used since the brewery began. When it was retired it was the oldest operating brewing system in Belgium. We got to walk the steep metal staircase to the top of the copper mash tun, if  it could only talk. The new brewery of course has a modern bottle filling station, but on the old side they still hand fill those large format size bottles. I was thinking about my 9Liter bottle of St. Feuillien Tripel sitting at home.  There is no tasting room here, and we've worked up a thirst!.
 Lindemans in Vlezenbeek
At 2pm we have a scheduled appointment for a private tour at Lindemans in Vlezenbeek.  Lindemans is renowned for its Lambic style beers. Lambic is a beer style with an old tradition dating from 1559 with mention of the production of Lambic "according to an old recipe". It is 30% wheat, with spontaneous fermentation by wild yeast and seasoned with hops. This wheaten beer can only be brewed in the southwest of Brussels, because of the presence of specific wild yeast like "Brettanomyces Bruxullensis" and "Brettanomyces Lambicus".
Our tour will cost us $50 and our guide Ann Marie is a former school teacher, who knows her beer stuff.  I hand her my SYF business card and we get started.  The first stop was the beautiful copper mash tun.  It was a little late in the brewing season for Lambics, under 15 degrees Celsius is ideal for the spontaneous wild yeast. The cooling tank was stainless, large and flat, like a shallow Olympic size swimming pool.  Here the beer sits overnight.  The Lambic brewer prefers older dried hops versus the fresh moist hops. The aging time for these beers is rather long, so there were storage tanks everywhere on the property. Nina and I found some of the wooden barrels used for aging.
Lambic on its own is rarely served anymore, rather it is blended 2/3 young with 1/3 old to create Geuze. The combination is then refermented again in the Champagne style for another 6 months.  The liquid takes on a light gold color and a winey, cidery taste. The fruit beers are made by adding fresh fruits to a young Lambic and matured for another 6 months. These are best either before or after a meal as a dessert.  Faro style is another Lambic beer which combines young and old along with candy sugar.  The result is a sweet and sour taste.
The brewery was very busy and like other Belgian breweries there was an expansion project underway. We Americans seem to be drinking a lot of what they brew. After the tour we sat at the tasting room bar.  Our tour guide told us that since we sell the beers of Lindemans in New Jersey, our tour is free and Mr. Lindemans will be out to meet us. Soon, Dirk Lindemans joined us in the tasting room. He shares duties with his cousin Geert in running the brewery.  We tasted several of the beers.  Dirk went inside the brewery and siphoned a sample of pure lambic from a barrel. Pure Lambic is rarely served anymore and we appreciated the opportunity to taste it. He returned with his sample in a decorative porcelain pitcher, reminiscent of scenes from the 16th  Century Flemish painter, Breugel.  The taste was very sherry like. Next we tasted the Geuze, which had a dry winey taste that can cut through any cream sauce, and is traditionally used to make the local dish Carbonade, or stew. The Cuvee Rene, named after Dirk's grandfather, is a special blend of lambics that have matured longer and on oak.
 Mr. Lindemans spent a long time with us and it was very informative. We thank him for the tour and the tastings and look forward to continue selling his beers at Stuff Yer Face.
 Hoegaardin and Stella Artois
We knew our third day would be different.  We were aiming for the big brewers. Hoegaardin and Stella Artois are both part of the massive company Anheuser Busch/INBEV, the largest brewer in the world. The first stop was Stella Artois located in the historic city of Leuven. Looking from the outside the building was huge and impressive.  The only entrance we saw was a guarded driveway with gates and security guard booths. I noticed a sign for toilets, so figured I would start there. Nina wants to walk past the guard and find an office, but that seems out of reach. The guard was strict. He stated "No appointment, no tour, no entrance".  We explained we are from Stuff Yer Face in the USA and sell their beers. It didn't matter.  Okay, can we at least get a picture of you throwing us out? NO.
 As we drive away, we realize we don't have any photo of any kind for the Stuff Yer Face menu.  So, as we drive along the busy road alongside the brewery, Nina stops the car, I jump out, and we plan to meet about ¾ mile further down.  I will take a photo through the barbed wire fence.  I start running, Nina puts on the car's flashers and slows down the traffic. What a scene, a 60 year old guy running alongside a car just to take a picture of an unfriendly brewery. I got two great photos a mini workout, and Nina didn't get a ticket!
 Next stop Brouerwij Hoegaardin, which is located in the city of the same name.  Hoegaardin beer is another part of AB/INBEV.  The area of Hoegaardin has always been known for wit bier, and at a time had more than a dozen breweries.  Years after they all closed, Pierre Cellis started Hoegaardin.  All Nina and I got was another view through the barbed wire fence. Disappointing, but we probably should have arranged an appointment through our beer distributor at home.
 One nice thing we found was an older building, just a kilometer from the massive modern brewery, which once was part of Hoegaardin's history of brewing.  Within the building currently is a restaurant named Kouterhof, a great place for lunch. The fresh poured Hoegaardin was delicious. The hint of curacao was really nice and the head on the beer couldn't be any whiter. Nina had the Grand Cru,which was amber in color, 8.5%, complex, bitter and sweet, spicey and citrusy.  Available only in Belgium!
Our room that night was at the Bed and Breakfast  L'Epicurie located in the area of an old malt distillery in Outgaardin.  Renovated and operated by Jan Vaes, he told us our room was once the pig's room; you mean pig sty? It was very funny however the room was very nice.  Jan was a pleasant and informative B&B owner, and he directed us to a restaurant and bar for the evening. Both were great choices.
 For pre-dinner beers we stopped in at Het Zwak Moment where the customers were intently in the middle of board game night. The owner, Annemie made us comfortable at the bar while she served up some great beers. Soon we asked the meaning of the bar's name, and she explained "in a weak moment". It's a funny name and it was a busy place.  We tasted a local brew named Nattie Lore, a Saison, brewed by six local guys.  The label had a seductive red head and the ABV was 9%.  It was a great beer, maybe all six brewers are in love with Nattie! Dinner was next oor at Spijshuis Dieu, and it's motif in the front windows was a shoe store as we walked in, but it smelled like tomatoes and garlic. The staff was fun, helpful, and glad to see us and to practice their English. The food was awesome.  What a great combination the two spots make for a restful and interesting evening.
On the last day with the rental car we drove to the Maredsous Abbey and the Leffe Abbey.  Neither of the abbeys brews their beers anymore but I feel it is important to trace the history.  Both are located near Dinant on the Meuse River in the Southwest corner of Belgium.  It's a beautiful area with a meandering river and rolling hills. Abbey de Maredsous ,located on a hilltop, is home to the Benedictine Monks.  The beers are now brewed by Duvel Moortgat.  Located near the Abbey are a visitor center and a cafeteria that serves great food and the three Maredsous beers, Blonde, Brune, and Tripel. It's a little touristy, however, when the abbey bells begin to ring, your mood changes and a moment of silence for reflection ensues.
Abbaye Notre-Dame de Leffe is located in Dinant. The Abbey was founded in 1240 but no longer brews any beer. Not much was open when we arrived.  The inside of the church is beautiful with spectacular stain glass windows.  Further downtown and across the river was a Leffe Museum where you can learn the history with an excellent, interactive, modern self-guided tour and an opportunity to taste the beers.  The museum was inside the chapel of an old Nuns Convent. There are many Leffe labels including Brown, Blonde, Ruby, Royale, Nectar, Tripel and more, now brewed by  AB/INBEV. Only some are available in the US.
Dinant seems like a great place to stay for awhile. In season the waterfront must be a lot fun and I'm sure there is plenty of hiking and watersports.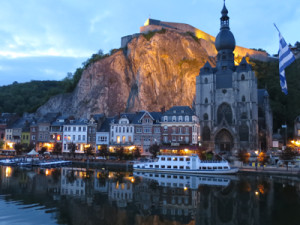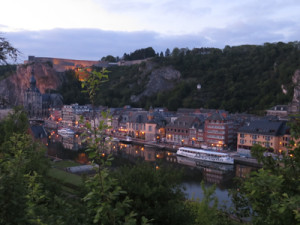 Well, that's the end of our Beer Belgian Brewery Tour. Nine stops. From the free swag family-owned brewing company to the barbed wire wrapped big brewing company. Nina and I were overwhelmed by the friendliness and generosity of the Belgian Brewers we met along the way. As busy as they were, they took a moment, and sometimes longer, to offer their assistance and to make our visit enjoyable and educational. They expressed gratitude for serving their beers. And, thank you Stuff Yer Face customers for enjoying these delicious Belgian beers.  Thank you to those we've met on our tour.